2023 Sierra 1500 Denali: Professional-Grade Luxury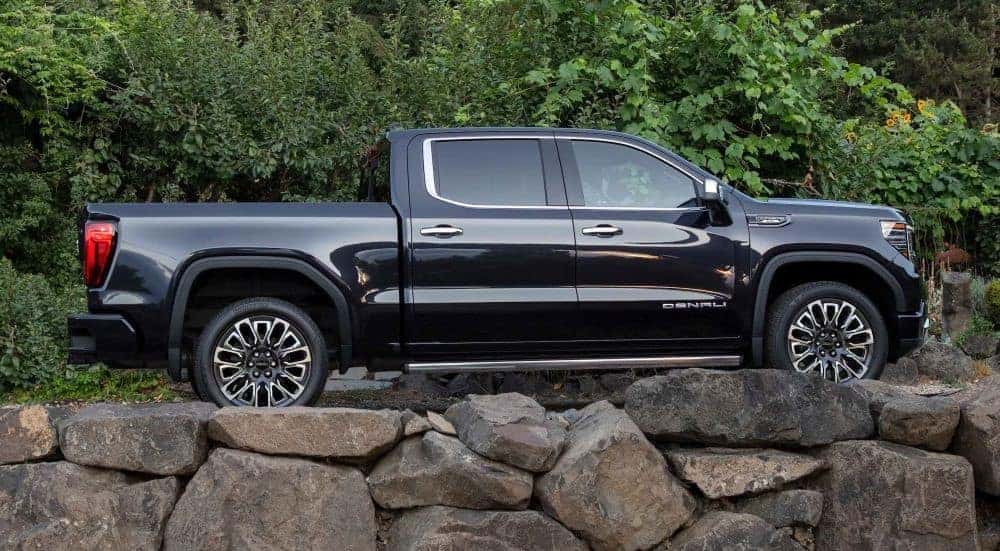 The GMC Sierra 1500 Denali needs no introduction. This powerful full-size truck blends capability and luxury in a way that no other vehicle can match, and as your GMC dealer in Buford, we are proud to carry it here at Jim Ellis Buick GMC Mall of Georgia. However, the Sierra 1500 Denali has recently received some major upgrades that make the 2023 model by far the best yet. To begin with, the 2022 model year saw a major redesign that added a ton of upscale features and high-tech options to this luxurious truck. It also saw the debut of the all-new Denali Ultimate trim, which takes the Denali name to new heights. Now, the 2023 model year brings several tweaks to improve the overall experience, including a powerful new version of the 3.0L Duramax turbo-diesel engine.
Climbing to the Pinnacle of Luxury
When it was first introduced in 2002, the GMC Sierra 1500 Denali shook the truck world to its foundation. Named for the highest mountain in North America, this stunning model represented a sharp break from the bare-bones trucks of the past. For the first time, hard workers could enjoy the very best luxury features in a powerful pickup that could handle the toughest jobs. This model has evolved considerably since those early days, adding even more luxury and capability with every year, and the 2023 Sierra 1500 Denali continues to represent the very pinnacle of luxury.
From first glance, it is clear that this is no ordinary truck. A massive polished chrome grille has become the calling card of the Denali lineup, and it is on full display in the 2023 Sierra 1500 Denali. This trademark grille is now flanked by brilliant dual-projector LED headlights and signature C-shaped daytime running lights for optimal visibility. Also sporting bright chrome tow hooks, side steps, wheels, mirror caps, door handles, badges, and trim, this truck fairly shines when the light hits it. However, this striking exterior is no match for the premium features that fill its roomy cabin.
Open the door, and you will be greeted by an interior characterized by high-end touches from authentic open-pore walnut wood trim and etched stainless-steel speaker grilles to forge-perforated leather seats with embroidered Denali logos. Two color schemes are available––a subdued Jet Black or a rich mix of Atmosphere and Brownstone accented by white stitching and piping. Both front bucket seats include ten-way power adjustment and are heated and ventilated for year-round comfort, from boiling Buford summers to chilly winter mornings. Even your rear-seat passengers will enjoy heated seats.
The Ultimate Truck
If the luxury features of the standard GMC Sierra 1500 Denali are not enough, then take a look at the Denali Ultimate. This new flagship offering stands out for its menacing Vader Chrome grille and 22-inch wheels with low-gloss black and machined aluminum accents. The interior also takes things to new levels with sumptuous full-grain leather Alpine Umber seats that boast best-in-class 16-way power adjustment and even built-in massage settings. Exclusive Denali Ultimate badging adorns the cabin, displaying the coordinates and a topographical map of Mount Denali. Completing the upscale look and feel is open-pore Paldao wood trim and a microsuede headliner.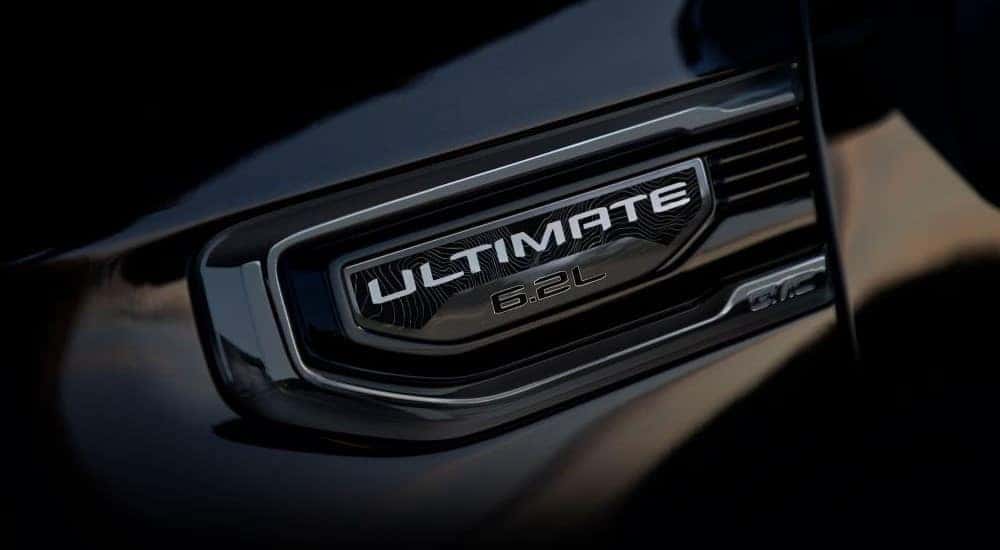 A Technological Tour de Force
As part of the 2022 model redesign, the GMC Sierra 1500 received a complete revamp of its tech features, and the results are simply incredible. Behind the wheel of the Denali trim, you will find a standard 12.3-inch digital information center with high-resolution full-color graphics to display critical information. This is paired with a 13.4-inch central touchscreen that is angled slightly toward the driver for perfect visibility on the road. To only does this massive screen provide plenty of real estate to view your apps, media, and settings, it includes Google Built-In. This cutting-edge software gives you access to your favorite features without having to connect your smartphone. Of course, connecting your phone is easy with wireless Apple CarPlay and Android Auto.
These large screens are merely the most obvious tech feature in the 2023 Sierra 1500 Denali. The most impressive addition is almost invisible, betrayed only by a thin green line along the top quarter of the leather-wrapped steering wheel. Available Super Cruise hands-free driving revolutionizes your time in the driver's seat. This advanced autonomous driving system can be engaged on over 200,000 miles of compatible roads, allowing you to remove your hands from the steering wheel and relax as your truck drives itself. The list of compatible roads includes I-85, I-285, I-20, and I-75, allowing you to enjoy Super Cruise across the greater Atlanta area.
A Work Truck Through and Through
While the 2023 Sierra 1500 Denali is a sophisticated luxury vehicle boasting high-end tech features, it is still designed for hard work through and through. Three engines are available, including a powerful 6.2L V8 and the recently redesigned 3.0L Duramax turbo-diesel in addition to the standard 5.3L V8. The updated Duramax is a particularly impressive option. New for 2023, it produces 305 hp and 495 lb-ft of torque for a max towing rating of 13,200 lbs, making it the Sierra 1500 the most powerful diesel half-ton on the market. Any of these three engines will let you take on tough tasks in a way that traditional luxury vehicles could never handle. Whether towing a boat to Lake Lanier or exploring the Chattahoochee-Oconee National Forests, nothing can stop the Sierra 1500 Denali.
This luxury truck can also be configured with either a 5.8-foot short box or a 6.6-foot standard box, giving it best-in-class cargo volume. If you need to pick up a load of gravel or some sheets of plywood, the Sierra 1500 Denali can take it in stride. In fact, with the available CarbonPro Composite Bed, it offers more cargo room than the standard steel-bed Sierra 1500 models. The CarbonPro bed is a great option for anyone planning on using their truck for hard work since the carbon-fiber composite is completely rust and weatherproof and resists damage better than a traditional bedliner. Finally, you cannot neglect the value of GMC's incredible MultiPro six-position tailgate. This handy feature is sure to come in handy no matter what you have planned for your truck.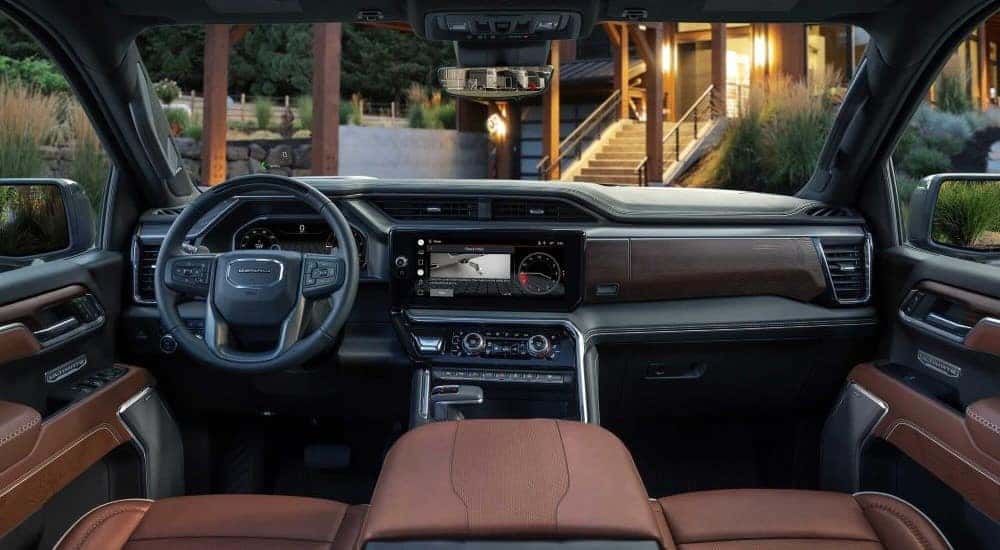 Enjoy the Best of the Best
From bumper to bumper, inside and out, the 2023 GMC Sierra 1500 Denali is a one-of-a-kind machine. There are not many vehicles that will allow you to commute in luxury, put in a hard day's work at the job site, stand out in the valet line, and haul a boat on the weekend, but this powerful pickup refuses to be limited by preconceived notions of what a truck should be. The Denali name has always stood for the pinnacle of luxury, but the recent redesigns and updates have taken the 2023 model to previously unimaginable heights. From being able to cruise down I-85 hands free while enjoying a massage to being able to put down almost 500 lb-ft of torque while hauling nearly a ton of cargo in the carbon-fiber bed, the 2023 GMC Sierra 1500 Denali will be able to elevate every aspect of your time spent behind the wheel. We can't wait to show you this truck in person at Jim Ellis Buick GMC Mall of Georgia!