Jim Ellis in The Community
Jim Ellis Buick GMC Mall Of Georgia Provides Meals for Teachers and First Responders in Gwinnett County

During these challenging times, Jim Ellis Buick GMC Mall Of Georgia supports local to spread cheer to members of their community who are doing the important job of education and safety.
In appreciation for police officers, teachers and first responders in their community, Jim Ellis Buick GMC Mall Of Georgia provided 171 prepared meals for the Gwinnett County Sherriff's Office, Gwinnett County Fire Department Station 24 and teachers at Buford Elementary.
On October 23, 2020, the Jim Ellis Buick GMC Mall Of Georgia team, along with Vice President Stacey Ellis, successfully delivered 171 meals, carefully placed inside a GMC Yukon XL Denali, in hopes to bring happiness to educators and first responders amid their workday. In a grassroots effort to support the local economy even more, the dealership elected a local restaurant, Bare Bones Steakhouse, to prepare mouth-watering boxed-meals for members of the community who are committed to the health, safety and education of Gwinnett County.
"It's great to have the opportunity to give back to your local providers who assist you with so many things that you don't even think about on a daily basis," says Jason Dowdy, general manager of Jim Ellis Buick GMC Mall Of Georgia. "From our amazing school systems to first responders. They're always there to help us and any opportunity we get to thank them for all they do for us, we are happy to do so."
It was important for Jim Ellis Buick GMC Mall Of Georgia to not only support first responders and teachers but also a local and family-owned restaurant to stimulate economic growth within their own backyard of Buford, Georgia. Restaurants have taken the brunt of difficulty of the pandemic and by purchasing locally, the dealership aims to revive local businesses like Bare Bones Steakhouse, who have recently reopened after shutting down as a result of Covid-19.
Jim Ellis Buick GMC Mall Of Georgia falls under the tutelage of the Jim Ellis Automotive Group, who will be celebrating 50 years in business in 2021. The company and each respective dealership is committed to supporting local and fostering relationships in the communities they serve.
About Jim Ellis Buick GMC Mall Of Georgia
Jim Ellis Buick GMC Mall Of Georgia is a full-service new and used Buick GMC dealer in Buford GA, serving North Georgia and beyond. Winner of the 2019 Consumer's Choice Satisfaction Award, the dealership carries one of the largest inventories of both new and pre-owned Buick and GMC's in the South. Jim Ellis Buick GMC Mall Of Georgia employs a team of highly trained Certified Technicians and Parts Specialists that proudly serve clients throughout the North Georgia area. Visit Jim Ellis Buick GMC Mall Of Georgia at 3600 Buford Dr Buford, GA 30519 or online at www.jimellisbuickgmc.com.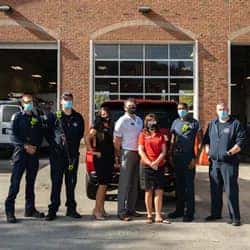 Investing in Our Future
Jim Ellis Buick GMC Mall of Georgia gladly and happily contributes to youth sports at Buford City Schools. Many of us live here in the community and our sons and daughters attend school here and benefit alongside of everyone else.
We believe in the teamwork that is inherently learned through competitive sports. We see the leadership that is developed on the field, in the gym and everywhere during the course of play. Our future leaders will first identify themselves on the Buford fields of play and in the gyms.
Meet Captain Mack Farr
Mack Farr is an influential North Georgia Fishing Guide, Outdoorsman, Entrepreneur and Adventurer. Aside from being one heck of a fisherman he shares a lot of beliefs and values with us. We are proud to support him and his efforts with the Jim Ellis GMC 2500 HD Denali. for more Info, check out the Captain Mack Blog.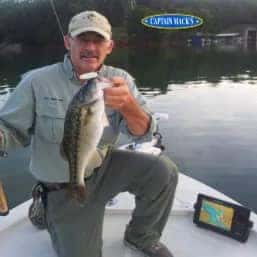 All Atlanta area Jim Ellis New and Used Car Dealerships participated in our recent virtual, "Shop-at-Home" event and raised $35,000 for the Atlanta Community Food Bank to help fight insecurity.
The Jim Ellis Automotive Group Strives to Create Great Car Buying Experience for You and To Make Our Communities a Better Place to Live for Everyone.
Thanks to our customers, we're able to support many local organizations dedicated to serving our community. Whether it's supporting child education programs, filling local food banks, or partnering with organizations to provide shelter for the homeless, the Jim Ellis Automotive Group is dedicated to serving those in need. With your help, we can continue to make a difference.
Jim Ellis Charity Golf Tournament
Since 2001, we have had the privilege to host an annual charity golf tournament; created to raise money for various charities that are near and dear to the hearts of Jim Ellis employees. Thanks to our generous business partners, associates and vehicle manufacturers we're able to raise thousands of dollars for the communities we serve. Below are a few of the organizations we've had the opportunity to support in recent years.
Charities We Support